FASHION: How to put on cufflinks?
In today's publication, you will learn a little bit more about the history of cufflinks, different types of cufflinks, what to wear with cufflinks as well as style mistakes not to make when you wear cufflinks.
History:
Elegant and refined accessories, cufflinks are often considered as jewelry and accessories for men. But before they became a usual fashion accessory in the form we now know, instead of cufflinks, ribbons and lace were used to hold the sleeves elegantly.
The first appearance of cufflinks took place in Europe in the early 17th century. These first cufflinks were made of gold or silver and connected by a chain. They were therefore expensive and not affordable for everyone. It was only at the end of the nineteenth century with the advent of the Industrial Revolution in Europe - which allowed the production at low prices and in large varieties of cufflinks - that the use of cufflinks was more widespread.
The different types of cufflinks:
There are basically six types of cufflinks depending on the way they are fastened, namely the Torpedo cufflinks, Whale back closer cufflinks, ball return cufflinks, chain link cufflinks, reversible cufflinks and Fixed back cufflinks.
Torpedo cufflinks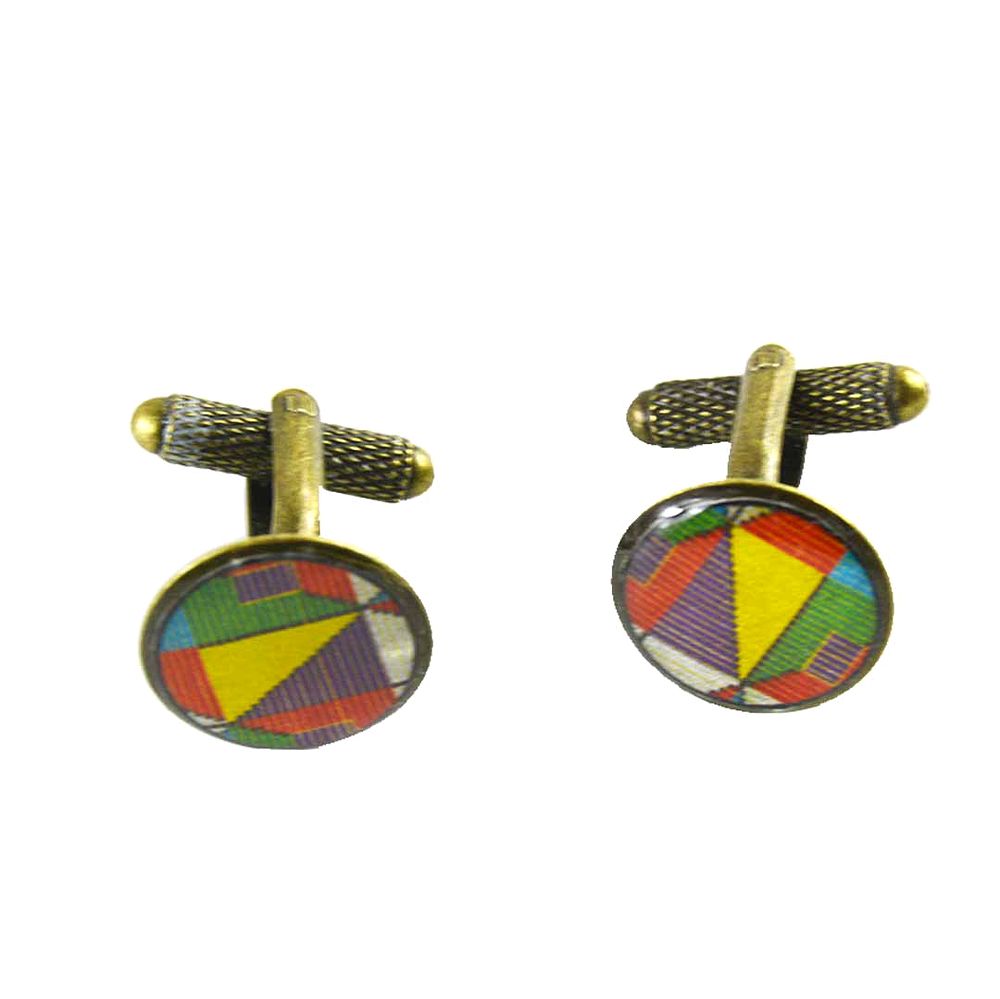 These cufflinks with a T-bar fastener are a very popular model and those we offer in our online store, in bronze or stainless steel. They are easy to wear thanks to the small swivel bar that easily fits into the holes in the sleeve of the shirt.
Whale back closer cufflinks: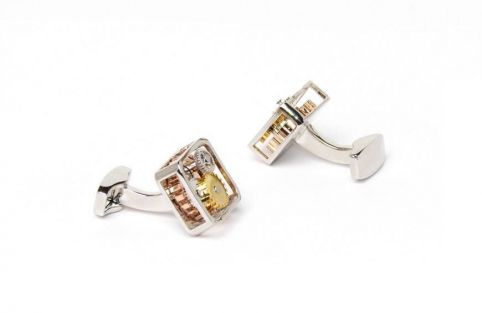 As the name suggests, this closure device has the shape of a fish tail. This type of cufflinks is a little harder to close but has the advantage of keeping the cuffs more securely.
Ball return cufflinks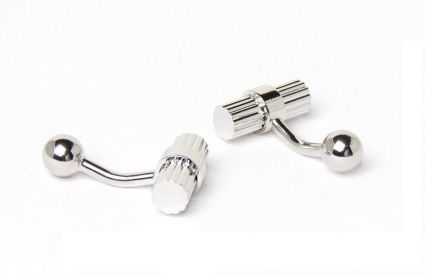 Very easy to insert in the sleeves of a shirt except for a new shirt at the first use because the holes are not yet opened.
Chain link cufflinks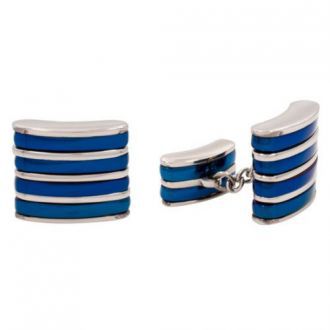 For this type of cufflinks, the two ends have a similar shape and link by a chain. But, these are not the easiest cufflinks to put on, especially if you want to make frequent use of them.
Reversible cufflinks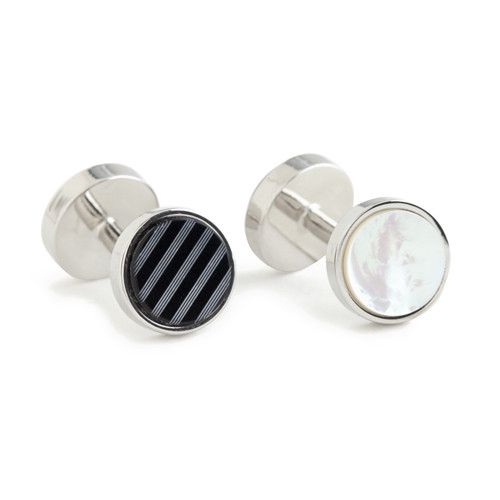 These cufflinks have the advantage of having two identical ends. So, you can wear them one way or the other. However, they are not very advantageous to use because not very easy to insert into the holes of a cuff, due to the identical size of the two ends.
 Fixed back cufflinks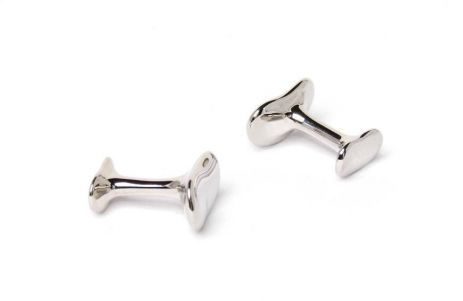 This kind of cufflinks is worn in the same way as the ball return cufflinks.
What types of shirts should you wear with cufflinks?
Cufflinks are worn with the French cuff shirts also known as double cuff shirts. Unlike conventional shirts, They have extra long cuffs that fold back on the cuff material creating layers. French cuff shirts do not have buttons on the sides to connect the cuffs. Instead, there are small holes on each side of the cuff, where cufflinks are inserted. French cuff shirts appeared in the 1970s.
How to put on cufflinks?
Insert the cufflinks through the aligned holes and secure it with the fastener. To do so, fold back the French cuff by using your opposite hand. Hold the cuffs together and align the cuff holes, then insert and secure the cufflink.
Here is a how-to video 
When to wear cufflinks?
You can wear cufflinks on various occasions:
At work
You can wear cufflinks at work, but this will depend on the type of function you occupy and the dress code of the company you are working in. If you are an executive, it will be easier to wear. If you are in an inferior position or if all day you need to have your sleeves rolled up, it is not worth wearing.
Also, be careful: if you have to attend a job interview, this may seem too primed especially if coordinated with a tie and if you are not applying to be an executive or a manager.
A wedding
Cufflinks are elegant accessories for a wedding, especially if you are the groom or one of the witnesses. In either case, choose cufflinks that match the theme of the wedding. Opt for stylish cufflinks for a classic wedding and more original style cufflinks for a more casual wedding.
As a matter of fact, even if you are not the groom, or one of the witnesses, it should not stop you from wearing cufflinks at a wedding.
Everyday life
It all depends on the dress style you decide to wear: choose your cufflinks accordingly.
Do not forget
It is very important to respect certain principles when you wear cufflinks:
- Your watch, belt buckle, bracelet and ring must be the same color as the metal of your cufflinks.
- Avoid choosing the same color of tie or bow tie, pocket square/handkerchief, socks as your cufflinks. Otherwise, you might look like a clown. Match your cufflinks to just one of those accessories.
The particularity of the Coo-Mon cufflinks
Our cufflinks are handmade here in Montreal in collaboration with Pommerose. In addition to the fact that it is a local production in very limited quantities, we use recycled soda cans that carry the image of the fabric used and not the fabric itself. Proceeding in this way reduces the waste of fabric as well as our discharge of textile waste into the environment. They are available in bronze and stainless steel/sliver plate.
You can also customize them with a photo or an image of your choice. Simply write to usand send us a good quality image. We can also provide you with details on the format of the image.
Are cufflinks only for men?
Even though cufflinks are often considered an accessory or a jewel for men, they are not the only ones to wear them: women can also use them. There are even some models with more feminine colors. Cufflinks add elegant and refined style to women's suits and can also be a seductive asset. Although there are some cufflinks only for women, most cufflinks are unisex.
So, ladies, do not offer cufflinks to men only: wear them on your own. Why not borrow those of your men to begin with?
See you for another publication
Ingrid, Founder of Coo-Mon Accessories and Cultures
Leave a comment