* By scrolling down, you will see our mission, vision, our values, the story of the entrepreneur behind the brand  as well as our awards and distinctions
Coo-Mon = Cotonou-Montreal
KWABO
(Kwabo means '' Welcome '' in the Fon language, commonly spoken in Benin)

You are not here by chance, you are here because you are curious, you love to share, you love to travel, you have friends of different cultures, you love to discover the culture of others.

You are in the right place, we wish you a good journey of discovery through the colours from Africa, Quebec, and Guadeloupe.

Mission
Coo-Mon provides casual chic fashion items inspired by the various continents and colours of the world that are designed for customers with a thirst for discovery and openness to other cultures
We offer not just a product, but a trip around the world through textiles.
Vision
To disseminate, through fashion, a message of integration, discovery, sharing, and communication through the adoption of others' colours in order to enhance and reveal the richness of cultural diversity.
Values
Respect:
 We are courteous when dealing with our customers and act with discretion in regard to their specific needs and special requests.
Our collaborators are important assets that help Coo-Mon in its development, innovation, and creativity.
We treat everyone with fairness and consideration and provide them with a safe and healthy collaborative framework.
Communication:
We provide honest and transparent communication to our customers, partners, and employees.
We believe in the positive impact of effective and clear communication in order to create a stimulating and creative working atmosphere focussed on unique products.
Diversity:
We believe in the strength and richness of diversity, and therefore,
 We respect everyone for who they are and for their achievements, skills, and experience so they can progress within a dynamic and successful team brimming with diverse ideas.
Innovation:
We are constantly looking to surpass and improve ourselves by creating trendy and timeless products.
We encourage initiative and creativity to generate new ideas and actions that promote an increasingly competitive organization
--------------------
THE ENTREPRENEUR
From Biomedical sciences to sewing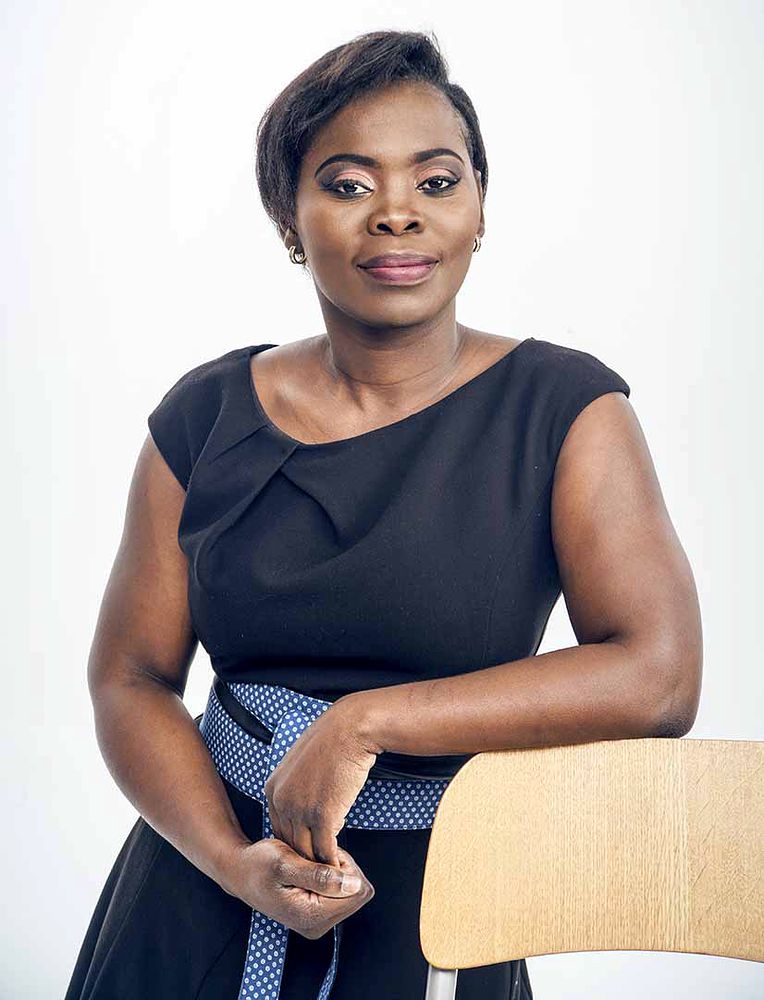 When a passion chooses you, the universe organized itself to bring you there at all costs am from Benin, a country where custom clothing is the norm. However, it is not always easy to get back from a tailor, clothing or accessory identical to what you ordered originally if this is not the reproduction of an existing model.

I then became interested in sewing, telling myself that if I knew how to do it, I could sew some models for myself. My crave for learning led me to follow sewing courses during two summers with my scholarship during my bachelor degree in Benin. My parents were not going to pay for non-academic training due to the fact that in my native country, studies take precedence over anything else.
Thereafter, I left Benin for Canada, thank to another scholarship to have a master's degree in Environmental Health and Occupational Health. Meanwhile, I left all sewing thoughts on the ice until I gave birth to my daughter during my Ph.D. studies in biomedical sciences.
During my maternity leave in 2011, I started thinking about sewing again and was looking for ideas of custom clothing for my daughter. But the problem was that I did not have a sewing machine, mine remained in Benin since it was too heavy to put in my luggage.
One of my cousins told me then that she knew an auction site where I could find a machine and if I'm lucky, I might even get it brand new at a lower cost.
I thought Wow, I'll try that because ''nothing ventured, nothing gained''. The site was called bidou.ca and no longer exists. I signed up and opened an account on the site and I was so lucky that I got my sewing machine for less than CAD $ 40.
With this machine which I still own today, I sewed a very first dress for my daughter. However, despite the insistence of my surrounding, I was not ready to start a business even though I have always wanted to be an entrepreneur and both my parents are.
My goal was to finish my Ph.D... In 2013-2014 though, my supervisor had to change research center. This created a period of instability in my studies that have idled, or to be more accurate stopped. This was followed by a period of questioning and challenging with a loss of passion for science.
After months of deliberation, I decided to give life to my entrepreneurial passion by creating a company of accessories and clothing for girls. But the next question was to know what types of textiles I should use. Looking around me, I noticed that just like myself, a significant number of people around me came from different cultures and were living outside their native country. This is how I got the idea to mix in the same product textiles from different origins (Quebec and Africa for now) to look like what I and others are today i.e. a mix of cultures.
In fact, the name of my company makes the connection between my hometown Cotonou (Coo) and my current city of residence Montreal (Mon).
Little anecdote... I started my online sales on Etsy and then I looked for a website that can help me to show a little more about my work and plan free delivery for people living in Montreal and surroundings without having to use a free delivery code. After several researches, I proceeded by elimination and retained a platform called Liki. But, as is often said ''what's bred in the bone will come out in the flesh''. My nosy scientific habit is never far away. I wanted to know who are the people behind Liki. And what my surprise to discover that they are the same who created the auction site bidou.ca which allowed me to get my sewing machine.
Nothing happens by a chance, right?
I continue to write my story one line at a time ...and I have to finish my PhD
One thing I have not told you is that I am a very lucky single mom with a girl who often tells me:  repeat after me mom, you must not be discouraged, you must work hard, you have to put heart in what you are doing and then you will succeed.
So I try to follow her advice even if it is not always easy.
Ingrid
-------------------
Awards and distinctions
2016
Finalist of next generation of business in Quebec, RJCCQ
Immigrant entrepreneur of the year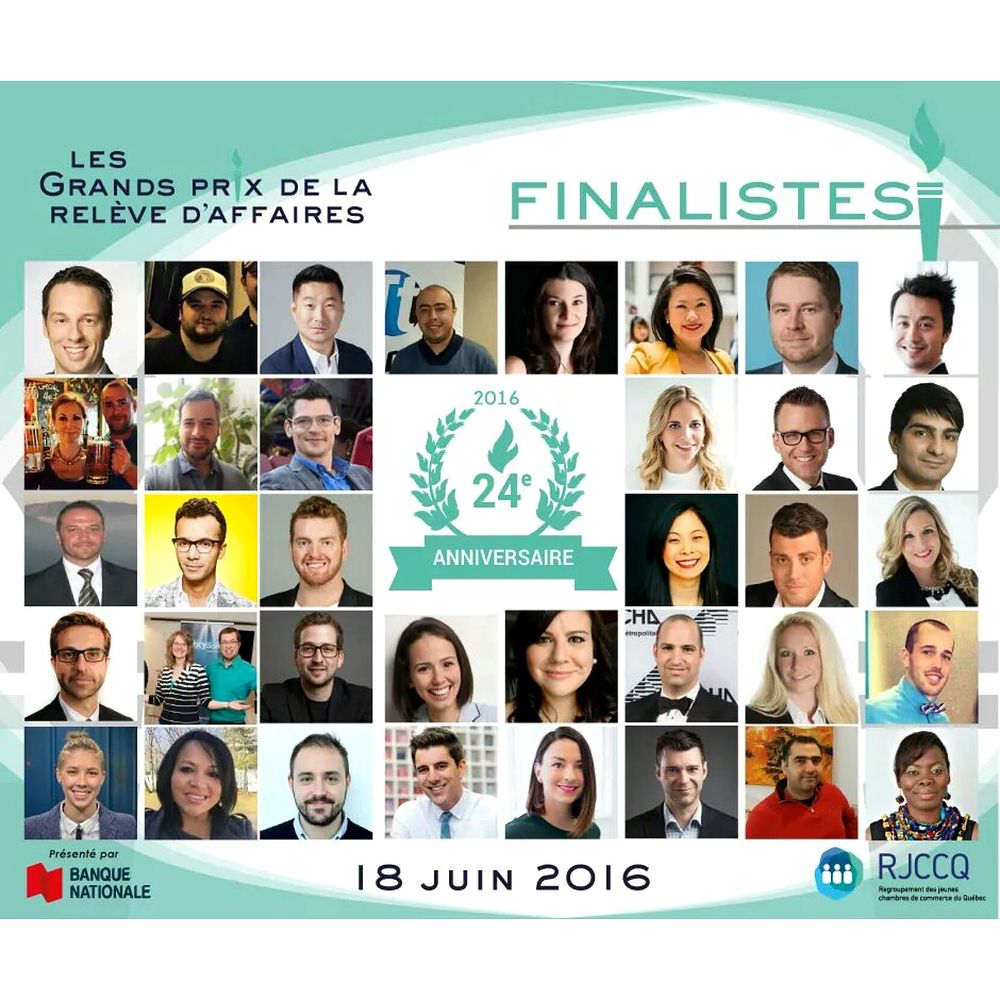 Media
2017
Journal les Affaires :
Cinq expatriés qui se sont lancés en Affaires au Québec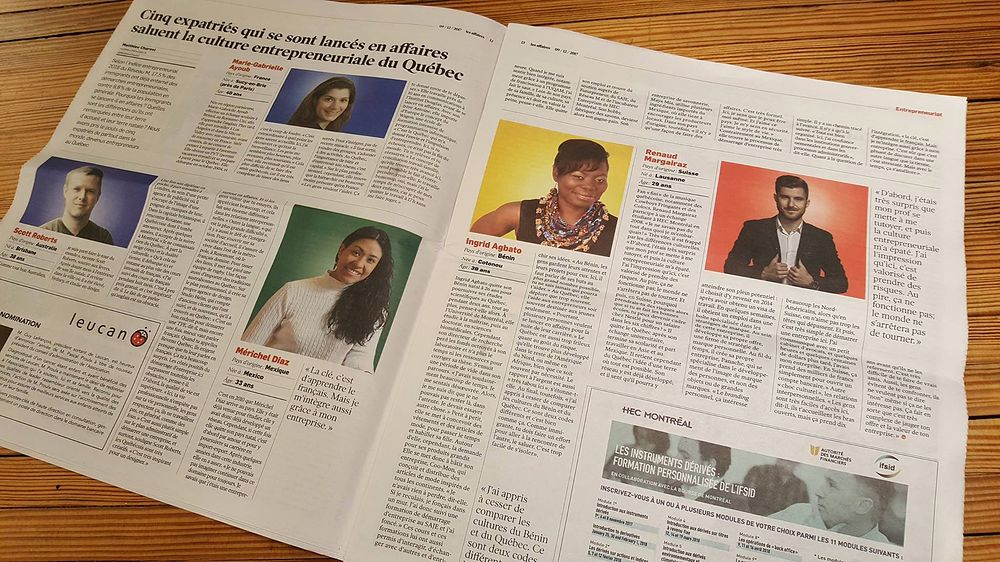 2016
Baron mag:
https://www.baronmag.com/2016/10/ingrid-agbato-fondatrice-coo-mon-accessoires-et-cultures/